Last year after we picked strawberries I tried my hand at canning. It wasn't as pretty as it should have been so this year I gave it another go around.
Washington Farms in Loganville, Georgia had a pick 2 buckets and get 1 free deal going on during a rainy week so my two children and I headed out to face the mud and pick 3 gallons of strawberries. Luckily, they hadn't been picked for a few days so there were tons of strawberries and after picking for 1 hour, my kids getting very muddy and eating as many strawberries as they could (not really allowed) and going up 1/3 of the row we were done. I do not own a pressure canner so I use what I have available, a large stock pot filled with water and other utensils that do not make canning safe to say the least. So here we go.
Slightly modified Strawberry Jam recipe
(modified from the certo package of the liquid pectin)
5-6 cups of fresh strawberries
1 package of liquid pectin
5 cups of sugar
1 tbsp. of butter
2 tbsp of pampered chef madagascar vanilla
I had to sterilize my jars and lids in boiling water so I left them in a sheet pan while I prepped everything. I put my berries in my pampered chef manual food processor so I could gauge the exact consistency I wanted for my berries. I then added the berries to one of my stock pots with the sugar.
I mixed it up and turned on the heat. I waited for it to start boiling I added the pectin.
Then I added my butter to keep it from over foaming.
I then added my Pampered Chef Madagascar Bourbon Vanilla.
There is foam that develops on top of the mixture and it is very important to scrape this off. Last year I didn't and it looked horrible and caused the top of the jam even though it was canned to change colors.
After I scraped off all of the foam this is how much I had scraped off to give you an idea.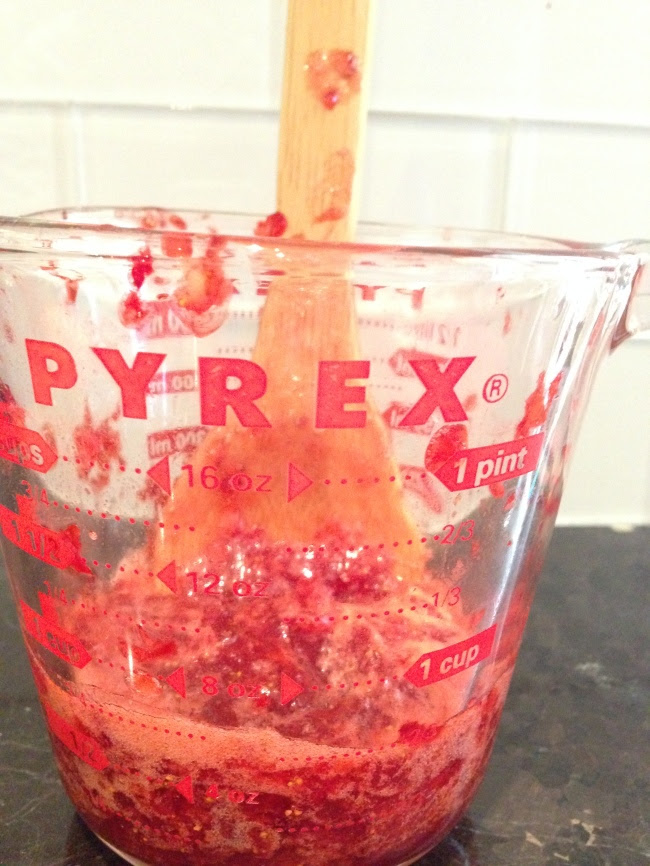 So instead of throwing this "foam" away, I made some toast and put it on it right away. Then I ladeled out the amount of my jam mixture I wanted in each jar and used a funnel to help me get it into my wide neck mason jars.
After using my ladle, I screwed the lids an bands on the jars and got ready to put them in the large stock pot and boiled them for 5-10 minutes.
Now, I highly recommend having proper canning equipment to remove hot jars. I had a spatula and a pampered chef microwave grip and it was rather dangerous.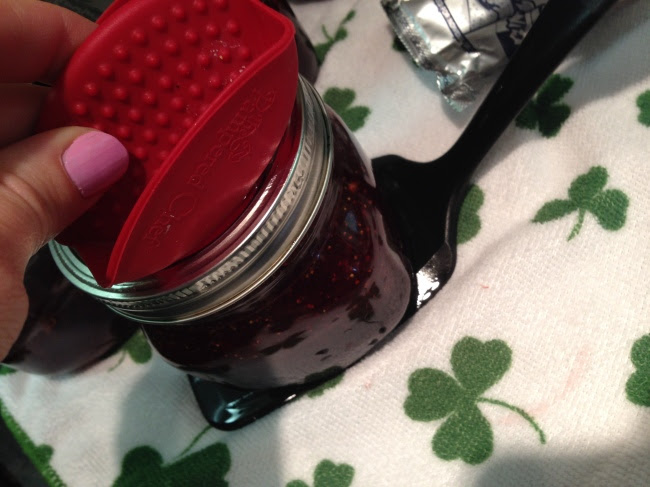 After dangerously removing the jam I had to make sure all of the seals were down and that they had time to cool. 
Needless to say my final creation was delicious and beautiful. I was very blessed to not burn my hand or face off trying to navigate a hot stock pot and hot jars with a spatula and microwave grip. My father-in-law did gift me a water-bath canning starter set to help me can more safely now that I know that this is something that even I can do.